We hope you love the products we recommend and just so you know that as an Amazon Associate EngineHoist.net may earn from qualifying purchases.
If you need to get the engine out of your car in a hurry, then an engine hoist is definitely your weapon of choice. They can lift huge weights and generally have a small footprint when it comes to using them in tight spaces – such as your home garage.
This guide is designed to help you make an informed decision about the best engine hoist to suit your exact needs. Our guide to engine hoists includes:
The best engine hoists on the market at the moment (2019)
Some simple information about what features to look for in the best engine hoist for you.
Whether you're a car enthusiast or someone who simply likes to get a job done well, you will probably want to make an informed decision about the kind of engine hoist to purchase for your garage.
How to Find a Hoist that Meets Your Needs
There are a few things you need to think about before you go out and purchase your first engine hoist. I will list them here:
Max Lift Capacity of Hoist that is required – Depending on the size of your engine you will need to consider the required Max Lift Capacity of the hoist. Please keep in mind that if you are referring to the hydraulic hoists that have an extendable arm, the lifting capacity is reduced as you extend the arm. The designated lift capacity of the hoist is referring to it with the arm fully retracted.
Type of Hoist that is required – Depending on the space you are using, you have the option to choose between a chain hoist or one that is on casters and can move around a little easier. Many people opt for the Hoist that is on casters and can move, while others either use an A frame hoist set-up where they use the chain to lift the engine, then slide it to the left or right once it has been removed from the car. If you plan on doing work on the engine regularly, you could even consider mounting a beam along the roof of the garage to hang the chain hoist on rather than using an a-frame.
Spread of the hoist legs – You may not have thought of this, but one thing you need to think about is how wide the space is between the tyres of the car you are planning on working on. If you don't wish to remove one of the front tyres to do the work, you may want to purchase one where the spread of it's legs is less than the distance between the two tyres.
How much space you have in your garage – One of the great things about many of the hoists above is that they are able to be folded away quite easily. I don't know about you, but space is a premium in my garage and it is something that I am keen to preserve, so these folding models are ideal for my purposes and probably yours.
back to menu ↑
Ultimate Engine Hoist Comparison Guide and Key
* Click on any of the columns to sort the data to help make your decision easier
Included in the matrix are 8 Columns:
Hoist images
Hoist Brand and name/model – (click to view more details or to purchase)
Maximum Lift Capacity of the Hoist – (if the hoist has a boom then the maximum lift capacity will be given when not extended)
Foldable / Not Foldable
Dimensions – (Length x Width x Height – Some models are foldable, so the dimensions when hoist is folded will be given)
Hydraulic / Chain – (Sometimes a chain hoist will get the job done)
Price – These are approximate prices on amazon.com. These change frequently based on availability, special promotions and more. But generally speaking:

$ = under $80
$$ = $80 – $150,
$$$ = $150 – $200,
$$$$ = $200 – $300,
$$$$$ = $300+

Rating – The average user rating on Amazon.com (out of 5). This can be very helpful in deciding if people are satisfied with their purchase.
Want to see even more engine hoists? – Click here to see our full list of nearly 30 hoists
The hoists included in this chart actually only begin to scratch the surface. There are many different manufacturers and models available that we simply couldn't have listed them all here. However, there are many excellent models to suit any requirement and budget.
What is an Engine Hoist?
If you've come to this site wondering what a a hoist does, I can tell you that it really is quite simple. Basically, as you can see in all the images above, an engine hoist is either a metal frame that involves using hydraulics to lift the heavy weight of an engine. A hoist can also come in the form of a chain pully system that also allows heavy weights to be lifted with ease. These hoists are used by both professional mechanics as well as home enthusiasts to perform maintenance on the engines of cars. If you were working on a car with a large engine you would want to purchase a hoist in the 2-4 ton range, while smaller cars may only require the 1 ton setup.
back to menu ↑
Review of the Top 5 Hoists
OK, so you are ready to purchase one of the hoists listed above, but before you do you may want to do some comparisons and make sure you get what are looking for. To make this decision a little easier for you I have reviewed the top five that are the list above (according to their amazon.com rating). If you would like to take a closer look or purchase at any of the hoists listed, simply click on the image and it will take you directly to it's listing in Amazon.
Vestil EHN-40-T Heavy Duty Steel Fixed Shop Crane Engine Hoist with Telescopic Legs
The Vestil company operates out of North-Easter Indiana which means that it is in a central location to ship to all the industrial areas of the United States. Their specialty is serving the material handling industry and have done so for the last 50 years. This particular product, the Vestil EHN-40-T has many excellent features that really do make it stand out in this list of the top 5 hoists. Here are some of those features:
Designed for easy mobility and has two rigid and two swivel casters

You can choose either the foldable-leg or telescopic-leg design

Hand-adjusted release valve to lower boom

Manual single-acting hand pump to easily raise boom

Telescopic boom gives the ability to lift different capacities and heights

Swivel hook for lifting is included on the boom end

Crafted with a steel construction and comes with a yellow painted finish
If you would like to take a look the owners manual, you can find it here.
>>Click Here to See Pricing, Ratings, and Reviews on Amazon.com >>
ATD-7485 2 Ton folding mobile engine crane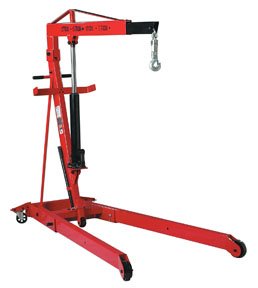 ATD-7485 2 Ton folding mobile engine crane is constructed from high quality steel material. The product has four position designs. It has special eight ton long ram with a by- pass mechanism for safety purposes. It is stable thus it is safe to work with. The crane itself weighs 304 pounds and has dimensions of (73.2 x 6.8 x 4.9) inches. The product has an overall capacity of 4,000 Lbs. It can also be adjusted high enough and can easily be used to swap out the engine of your vehicle. Both the rear and front legs are adjustable. After use, the units can be folded for easy and compact storage. Because it meets safety standards such as the AMSE/ANSI-PALD standards it is one of the safest models you could purchase. One important thing to note is that because of the height it can raise the arm to, it is possible to load your engine on to the flat bed of most pickup trucks.
The ATD-7485 2 Ton folding mobile engine crane has high quality characteristics that offer total job satisfaction. Due to the durability of the crane, it is also considered cost effective. This is mainly because you wont have to replace the product from to time.
Buying tips
If you purchase Amazon PRIME (around $80) which gives you free shipping,  you can save some money immediately because shipping on this product is around $90.
So, At around the $500 mark, it really is money well spent.
>>Click Here to See Pricing, Ratings, and Reviews on Amazon.com >>
The Black Bull CHOI2 2 Ton Capacity 8′ Chain Hoist

The Black Bull CHOI2 2 Ton Capacity 8′ Chain Hoist is a standard hoist that has the capacity to lift up to 4000 pounds (2 tons). It is mainly used as engine host and at times maybe used in shops because of it's durability and slight build (only 25 pounds). It is also used in lifting things like large shop tools, small engines, building supplies and car transmissions.
The Black Bull CHOI2 2 Ton Capacity 8′ Chain Hoist is a great option to be used in farms, workshops or garages. It is a safe and easy machine to use. One of the main reasons it is able to lift such a large load is because the chain is constructed from hardened steel.
It has a secure overhead beam or a hook that holds the tools and equipment's to the ceiling or fitted bar. The Black Bull Chain Hoist is quite mostly suited for use when the requirement to move the weight being lifted is minimal. Coming in at well under the $100 mark, its a definite contender for your garage.
>>Click Here to See Pricing, Ratings, and Reviews on Amazon.com >>
Torin T31002 Engine Hoist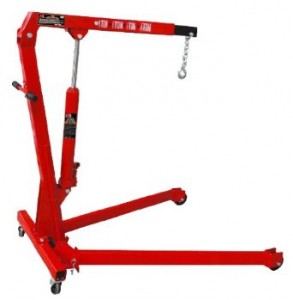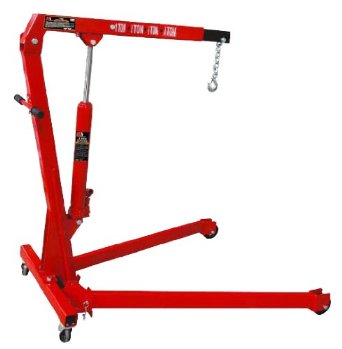 The Torin T31002 Engine Hoist – 1 Ton comes with a lifting range that spans from just 1 inch right up to 78-3/4 inches. It is specifically designed for heavy duty lifting and has excellent mobility due to its four high quality caster wheels. It is very easy to assemble and it's highly recommended for anyone who wants to pull a standard sized engine.
The Torin T31002 engine hoist is foldable, which allows it to be stored in your garage without taking too much space. So if you're short on space, you might want to consider this hoist!
Cost is also one of the great things about this model. This is because it is quite inexpensive, particularly when coupled with low shipping costs due to the small weight of the product. This hoist also looks great, and is great value for money.
>>Click Here to See Pricing, Ratings, and Reviews on Amazon.com >>