We hope you love the products we recommend and just so you know that as an Amazon Associate EngineHoist.net may earn from qualifying purchases.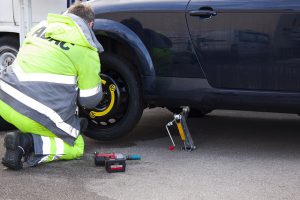 Very few people prepare well for an emergency; particularly when it comes to their precious automobiles. One of the key places emergencies happen is on our roads.
However, to save yourself from being stressed next time the unexpected happens on the roads, lets get you prepared with the right gear, without breaking the bank. This is our list of the Top 3 Cheap Car Jacks.
If you just want to skip to the end and see our top recommendation, here it is:
>> OUR TOP PICK <<
4 new from $24.14


Last update was in: September 26, 2023 5:53 am

2 Ton capacity. Lifting Range: 105-385mm (4.2-15 inch)
Easy operate with chromed crank handle comes with the package.
Compact design, easy to carry, easy to store in the car trunk space.
Ideal tire repair or changing tools for auto small and medium cars vehicles.
High quality steel, heavy duty construction, dealer prices, long tool life. US stock fast free shipping!

In the likely event that a car may break down, or have a flat tire, a car jack not only comes in handy, it becomes critical to get you out of the situation.
To change a tire, or fix a problem, you need to use a car jack to lift the vehicle a few inches above the ground. There are a number of different types of car jacks use hydraulic technology to lift a weight that can't be managed otherwise. Therefore, car jacks are indispensable in the vehicle at any time. Jacks provide the easiest and safest way to handle a broken down car as long as they can manage the weight of a particular vehicle.
---
SAFETY WARNING:
Never place any part of your body under a car that has not been properly stabilized on a solid surface, using a set of car stands such as the AmazonBasics Steel Jack Stands with 3 Ton Capacity
---
Car jacks come in many kinds, and prices. As for jack prices, there is no need to spend a lot of money on an expensive jack when you can get one for cheap that will manage the same task, or even better. At the end of the day what really matters is the reliability of a jack to lift and hold the weight of car while its being worked on. The following types of jacks are recommended for three reasons. One is that they are inexpensive, and two, they are solid and firm, lastly, they do the same job as the costly ones would, thats why its great to grab yourself one of the cheap car jacks listed below.
Here is our list of the Top 3 Cheap Car Jacks.
---
2 Set Auto Car Wheel Scissor Jack
For such a reasonable price, you get a set of two jacks! The importance of having a set of two jacks is that this jack is capable of lifting a car up to ranges of 4.2 – 15 inches. When one side of the car is elevated 15 inches above the ground might damage your car's springs on the other side.
Therefore, the second jack comes in handy to elevate the other side to save your springs. This jack is suitable for a wide range of car makes and models. It is also suitable for small and medium-sized automobiles.
The package comes with a crank speed handle that is very user friendly. Due to its compact design, this jack is easy to store in your car's trunk.
---
#2 – Performance tool W1623 4-Ton Heavy Duty Hydraulic Bottle Jack
For an extraordinary price, you get a jack that can lift up to 8,000 lbs. One of the advantages of this jack is that it comes with a pump handle that fits very well with the other part underneath.
For the small size of this jack it is very strong and can fit in a wide range of area applications, small and big. Also, it does lift very heavy weights, such as trailers; it could also double up to lift up minivans and medium-sized automobiles.
---
#1 TOP PICK – 2 Ton Scissor Jack Manual Wind Up for Car Tires Lifting 385mm/15 Inch with Speed Crank Handle
This jack is highly recommended of the three. First of all, this is a very inexpensive jack. For a little over $20, you get to enjoy a lifting range of 4.2 – 15 Inch, and lift up to 2,000lbs car very easily. Its handle moves very smoothly hence little effort on the user's end.
It is also very portable; for its size and compact build it can easily be stored in the car's trunk together with other tools. It comes in very handy with tire changes for a good range of car sizes.
The handle moves very well making operation of the jack easy and efficient. Due to its quality of material and assembly is can be used in a number of places and surfaces, not just on cars but other kinds of motor vehicles.
The jack is long lasting since the parts that come into contact with the vehicle or any other load do not bend. Therefore, as far as cheap car jacks go, this jack can guarantee minimum damage on your car as well on itself.
---
Conclusion
Of the three jacks, the third one is highly recommended. For its price, strength, durability, and usability, one gets to own a reliable jack that leaves minimal damage to part of the car and for less money. To get the value for your money, and quality and reliable workmanship, jack number three is highly recommended. The other two are also good to meet your need, but not as excellent as the third choice.